**Update** Honey Birdette has come to New York, check them out here.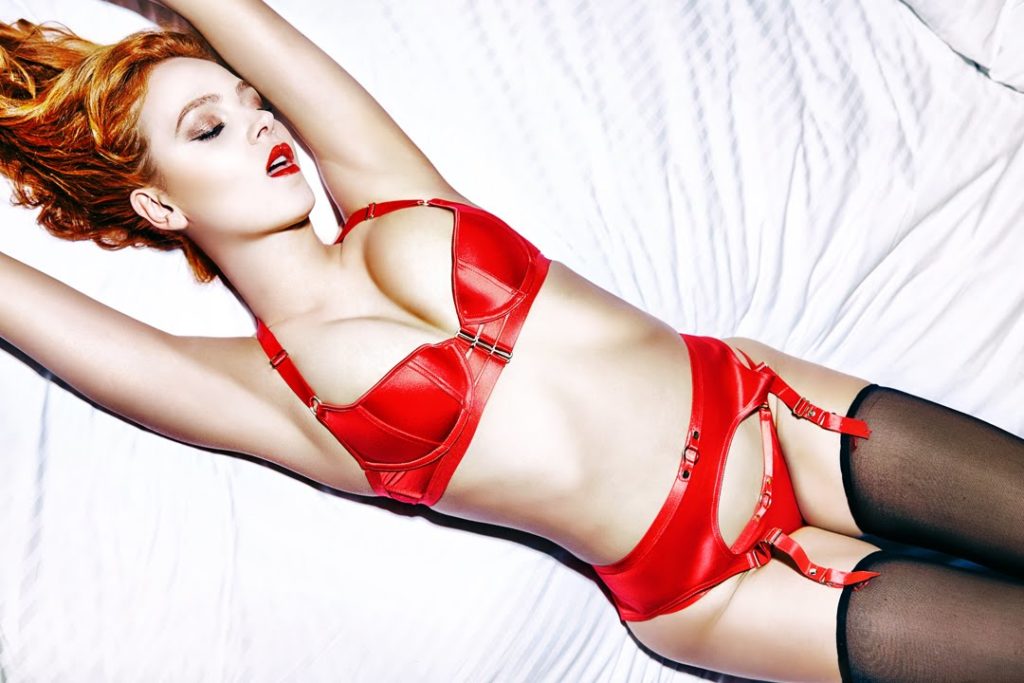 Women love gifts. The more you give her, the more she'll give herself to you. But most men are clueless about what to buy for that special lady in their lives. It's really not that hard. Think about it. What does a woman want more than anything from her man? She wants to be loved and desired by you. She wants you to find her enticing and exhilarating. She wants you to gaze upon her with lusty eyes and a devilish smirk on your face. THAT'S what women want. And nothing says you want her like luxurious lace from Honey Birdette. Want a few fail-proof gift ideas that'll bring out the bad in your girl? Read on, gentlemen.
Elise Leatherette Bodysuit
There's something very arousing about skin-tight leather. Maybe it's the way that it hugs a woman's irresistible curves and shows off her feminine figure like a second skin. Maybe it's because leather feels cold to the body and subtly excites her when she slowly slides it on. Maybe it's because it taps into some animalistic part of human nature and makes us want to give in to our urges. Whatever it is, leather will work in your favor. The Elise Leatherette Bodysuit is one hot piece of kit with its revealing bust, stomach, and back cutouts. This sleeveless and legless design resembles a sexy one-piece swimsuit made entirely of midnight black leather and accented with gleaming gold zippers. Supportive cups push her babies into the spotlight, and a modular design allows for numerous ways to have fun.
Black Love Lace Robe
Most men won't complain when their woman shows a little skin, but sometimes it's better to leave a bit to the imagination. The Black Love Lace Robe is the best of both worlds. This fully sleeved robe features a transparent body, mid-thigh length, and intricately detailed all-over patterning. A silky sash sits across the waist for retention, but it can be removed with a slight tug when you can't take her cruel teasing anymore.
Honey B Nude Stockings
Women spend a lot of time and money looking good for us guys. When your boo spends countless hours at the gym getting sweaty and gross just to stay nice and tight, you better get her something to reward her for enduring all that pain. She's probably very proud of her legs and gets a kick out of seeing you slip into a brief state of catatonic shock every time she struts by. Stroke her ego even more by buying her a pair of Honey B Nude Stockings by Honey Birdette. These sheer thigh highs are compatible with a garter belt and feature a black line with "Honey B" script running all the way up the back of the leg. Black accents are also present at the heel and foot, and a black band sits at the leg opening for a head-turning contrast in hues.
Tie Me Pleasure Tape
Face it. A lot of women are into bondage–and the ones who haven't tried are curious. You can thank Fifty Shades of Grey for that one. Even though it might not be your thing, try it out if your lady gets all hot and bothered thinking about mock enslavement. The Tie Me Pleasure Tape is a great start to your journey of evolving into a sadistic dominator. This gift allows you to live out your wildest fantasies while she whimpers in the corner begging for your next action. Creativity is the key with this naughty gift idea!
Whether you're looking to reboot your love life or simply want to experiment a little, Honey Birdette is your go-to supplier of all things sexy, sultry and sinful. When you make your woman feel like a goddess of seduction, she'll show you a side you've never seen before.