Most professionals that work in laboratories or hospitals are required to adorn a lab coat. This however can be somewhat frustrating because you will always have to think about the white coat when choosing what to wear. Furthermore, the fact that the coat covers your clothes does not help at all. While the white coat is not a fashion statement, it is more advantageous than you would like to think. The coats protect your clothing and thus you do not have to worry about destroying your favorite items. Accidents are prone to happen and in fact that is why you are required to wear a lab coat. All in all, you can still maintain your style and be fashionable at the same time under the white coat. However, keep your workplace's dress code in mind before embarking on any style makeovers. You already wear something to work under your white coat but the issue is remaining stylish even when you wear it. What are some of the options that you can easily try?
Dress Shirt and Tie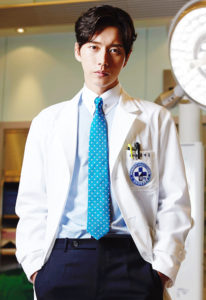 Doctors and any other professionals that work in a setting that requires a lab coat should ooze professionalism. You want to assure your clients that you are more than capable of doing your job and your style contributes to this notion. Therefore, a dress shirt and a tie is the perfect combo that can still relay your personal style under the coat. These are wardrobe essentials that any man should have and therefore creating this look should not be difficult. Furthermore, the shirt and tie combination is comfortable and suitable for any workplace occasion. Remember, you can easily transition from a business lunch to the office without any fuss.
Business Casual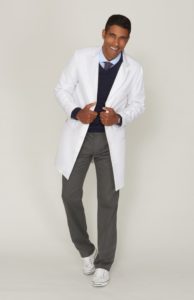 This is a variation of the dress shirt outfit but without the tie. You can still look professional without having to incorporate the necktie. Business casual is very versatile because you can choose to wear any blazer, sports jacket or even sweater with your shirt and trousers. You can also wear the shirt without adding any other layer. This means that you can skip the blazers and jackets and only rock the shirt. Any collared shirt with a nice pair of pants can easily create this look. You will find that it is comfortable as it is stylish.
Khakis/Chinos and Dress Shirt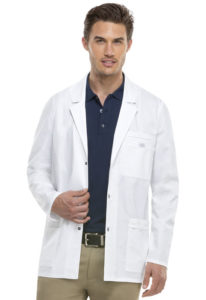 This outfit is what we fondly refer to as the casual attire. It is meant to give off an effortless vibe while still allowing you to showcase your personal style. These items are also style staples that every man should own. In fact, many men own a number of khakis and creating versatile looks from your collection should not be difficult. What's more, there are many shoe choices you can choose from to complement this look depending on your workplace dress code. With this choice of outfit, you can handle long working shifts without worrying about what you are wearing.
Dark Jeans and a Collared Shirt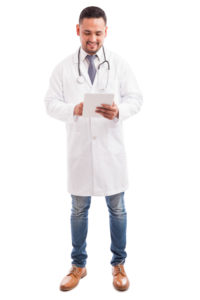 For the more relaxed workplace, you can easily remain stylish by dressing your dark jeans with a nice clean collared shirt. Your jeans have to be fitted and subtle enough to blend in with the workplace. Do not go for ripped, stonewash or even jeans with too many zips and pockets. You want to be comfortable but not too much that people think you are on your way to the nightclub. If your workplace allows such looks then you can also try them out. Furthermore, this look can be finished off with essentially any nice pair of shoes including leather ones. When implemented correctly, people should be able to notice your personal style even under the lab coat.
Turtlenecks with Dark Khakis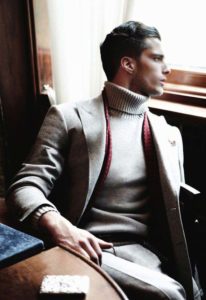 Lab coats will mostly definitely cover more than three quarters of your outfit. Therefore, you can try to showcase more by choosing to wear a turtleneck. Pairing it with a dark pair of pants gives you more flexibility since you can choose almost any color for the turtleneck. You can also do brighter colors but that requires you to carefully choose the top. Dark-colored pants are safer because you can easily choose what goes with them in terms of color. This choice will be ideal for days when you want to dress down but still remain fashionable.
When dressing under the white coat, remember that your dress code counts. But I would like to assume that most workplaces that require lab coats do not impose very strict rules when it comes to dressing. Therefore, remember to dress for personal style and comfort as confidence greatly contributes to how fashionable we are. Also, the coat does not cover everything therefore choosing to be sloppy and careless is not an option. Remember that choosing to dress well is also a form of good manners.
Bio: Dr Akhil Reddy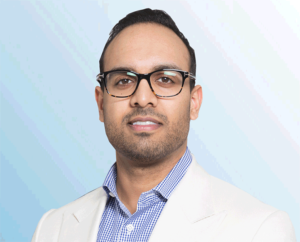 Dr. Akhil Reddy is dedicated to dentistry, finding great wine buys and dressing stylishly. He has been committed to offering the best advice in all realms as a result of his years' worth of experience. He continues to impart his knowledge where it is needed the best way he knows how. Dr Reddy is an avid reader and enjoys spending his free time catching up on his favorite books. He studied dentistry in the University of the Pacific as well as Biology in the same institution. He is currently the director of Just Health 510 and was a previous committee member of the Innovations in Membership Models Task Force of the California Dental Association. Other than his impressive work achievements, he has also received the Michael J. Minch Award for Excellence in Undergraduate Research. Dr Akhil Reddy has published two journals, Looking for the Right Balance between Dentist as Manager and Dentist as Care Provider as well as the Role of the Drosophila Rad51D and XRCC2 homologs in DNA damage Repair. With all these achievements under his belt, he still remains true to what he loves and ensures that he continues to give his best in the medical field.