Security And Privacy Have No Price
The internet can best be described as a jungle. Besides the security reasons behind using a VPN (Virtual Private Network), there are many others to use one as well. A VPN creates a secured connection over a public network encrypting your data, changing your public IP and location. It sounds fancy but it's actually really simple. Every time you browse the internet you can be identified by your "public IP address". Each device you own that has internet access has a unique global public IP address much like the address to a house. What does this mean? You can be easily identified, monitored and targetted by hackers. It is also no secret that your Internet service provider and the government keep an eye on internet traffic. Thankfully for us, we have options available with the VPN being a simple one. Here are 10 reasons why you should be using a VPN everytime you go online: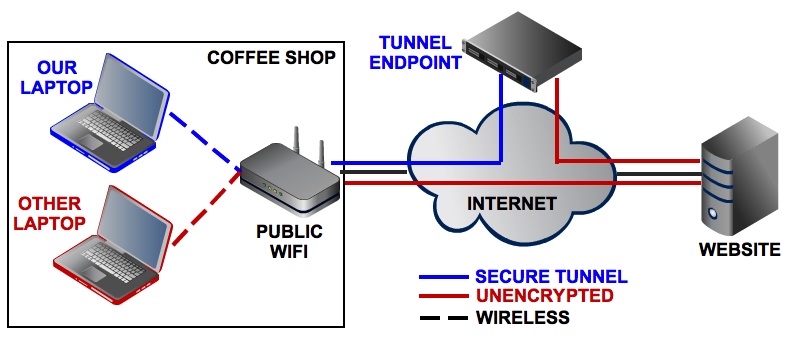 1. Online anonymity – The main reason people use a VPN is to make sure their public IP address, location and internet activity are not disclosed. This keeps you anonymous and safe from being monitored and targeted.
2. Use any public Wi-Fi safely – Everybody loves free Wi-Fi. Whether you are staying at a hotel or at Starbucks for a cup of coffee we have all connected our devices to their Wi-Fi before. The problem is that all the traffic on those connections are not encrypted meaning anybody connected can use a long list of tools available to read your internet traffic. A VPN encrypts your data making it unreadable.
3. Privacy –  Privacy is a basic human right and why should this change when you connect online. A VPN keeps all your searches, downloads and data private.
4. Use search engines without logged results – Search engines such as Google, Yahoo and Bing keep a log of all the web pages you visit. This is all attached to your computer's public IP address. This is how advertising and search results are targeted on future internet browsing. A VPN prevents this by changing your public IP address.
5. Download and upload P2P files privately- Whether you like to share files or download the latest movies/tv shows you can do so privately using a VPN. Everyone enjoys the free movies but nobody wants to receive a copyright infringement letter at home from your internet service provider.
6. Unblock Geo-restricted content- Most major apps and sites have geographical restricted content based on the location of your public IP. If you are trying to watch a movie on Netflix or Hulu not yet available in your country you can bypass it with a VPN. The VPN service lets you choose the country where you want to show up as in order to access it.
7. No government censorship- Some countries do not allow to access certain social media sites and other sites limiting freedom of information. This can be bypassed with a VPN as well choosing to show up as being located in another country.
8. Hide your voice over IP calls- If you are using Skype, Lync or any other voice chatting you can be eavesdropped on. A VPN prevents this giving you the privacy you need.
9. You do research- Whether you are a journalist or not using a VPN is important. The VPN provides that extra encryption and location of your choosing to make sure the information you send makes it through. Maybe you are researching highly controversial topics and want to keep your privacy.
10. Because it is now very affordable and simple- A VPN service is now very affordable finding most of the top VPN providers under $8 a month and some under $5. Not only is it affordable but also connecting is just one click away.