Usual HBO Hype
Mayweather vs Ortiz has gone down in boxing history as one of the most confusing and disappointing fights of all time. As all of the other Mayweather fights, the fight was hyped up big time by HBO. Victor Ortiz was the power-puncher underdog who grew up without a mother and with an alcoholic father who also abandoned the family. He took care of his younger brother while going through foster care system. He had fought his whole life to get to this fight and beat the undefeated boxing superstar Floyd Mayweather. The fight billed "Star Power" had the perfect David vs Goliath story. This is what ultimately added to the huge disappointing outcome which made many fans question whether they should pay for another PPV fight or not.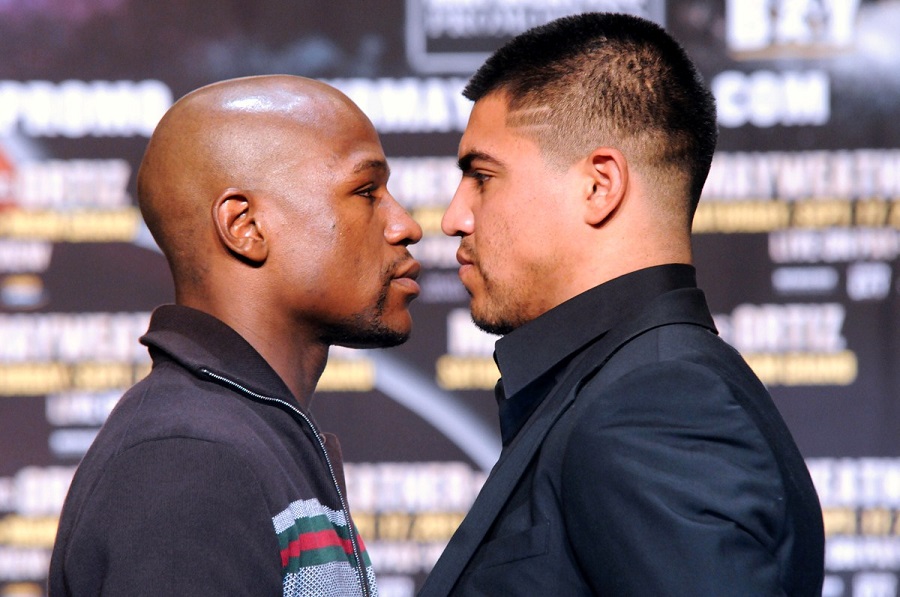 Rules Are Rules
Right from the start of the fight Mayweather was in control using his incredible speed and skills to keep Ortiz tagged. The first three rounds were all dominated by Mayweather. But on the fourth round things started to turn. Ortiz landed a few punches pushing Mayweather to a corner. That's when it all happened. Ortiz lost control and headbutted Mayweather opening a cut on the side of his mouth. The referee immediately called timeout and Ortiz seemed to knowledge the foul. Ortiz then went over to hug and even kiss Mayweather. The fight was quickly resumed but Ortiz seemed to still be focused on an apology. As he touched gloves with Mayweather he went to give him another hug instead of putting up his guard. That's when Mayweather struck him with a left hook. Ortiz was stunned with his hands still down looking at the referee as if asking him to do something. Mayweather proceeded to land a right punch that knocked him out. The fight was over but the fans watching were really confused. Take a look at what happened:
According to boxing rules,  the fighters must "protect themselves at all times." Mayweather being an experienced fighter definitely saw a window of opportunity and took advantage. The punches he landed were all legal. But were the punches he threw sportsmanlike? Did Ortiz get what he deserved for the headbutt? These are the questions that many fans asked themselves after the fight. Boxing fans were expecting a different outcome and better entertainment. Many fans felt robbed of the money they had paid to watch the fight and even claimed the fight was fixed. We will never know if the fight was fixed or not but we do know that this fight has gone down in boxing history as one of the most confusing and disappointing fights.