Humble Beginnings for College Superstar
Few quarterbacks have had a larger impact in college football than Tim Tebow. He is the first Sophomore to ever win the Heisman in 2007. He has two national titles with the Florida Gators in 2006 and 2008. Before his time it was unreasonable for a QB to toss over 30+ touchdowns and run for another 20+ in a season. But the greatest part of Tebow is that he just has a knack for winning games. What makes Tebow such a polarizing figure is his strong faith that he does not shy away from. The NCAA created a rule banning messages written on eye paint for players due to him, after he wrote John 3:16 on his eye paint. He also would not allow players to curse in the huddle and would often pray with teammates in the locker room.
His parents were Baptist missionaries that built a ministry in the Philippines. His mother would fall into a coma after a bout with dysentery, only to discover she was pregnant. The medication used to treat her caused her placenta to detach from her uterus. Doctors expected a stillbirth and recommended abortion since there was no hope. Being strong believers in their faith, they decided against it and Tim was born against all odds. Once you know this little bit of history, it all starts to make more sense why he is the way he is.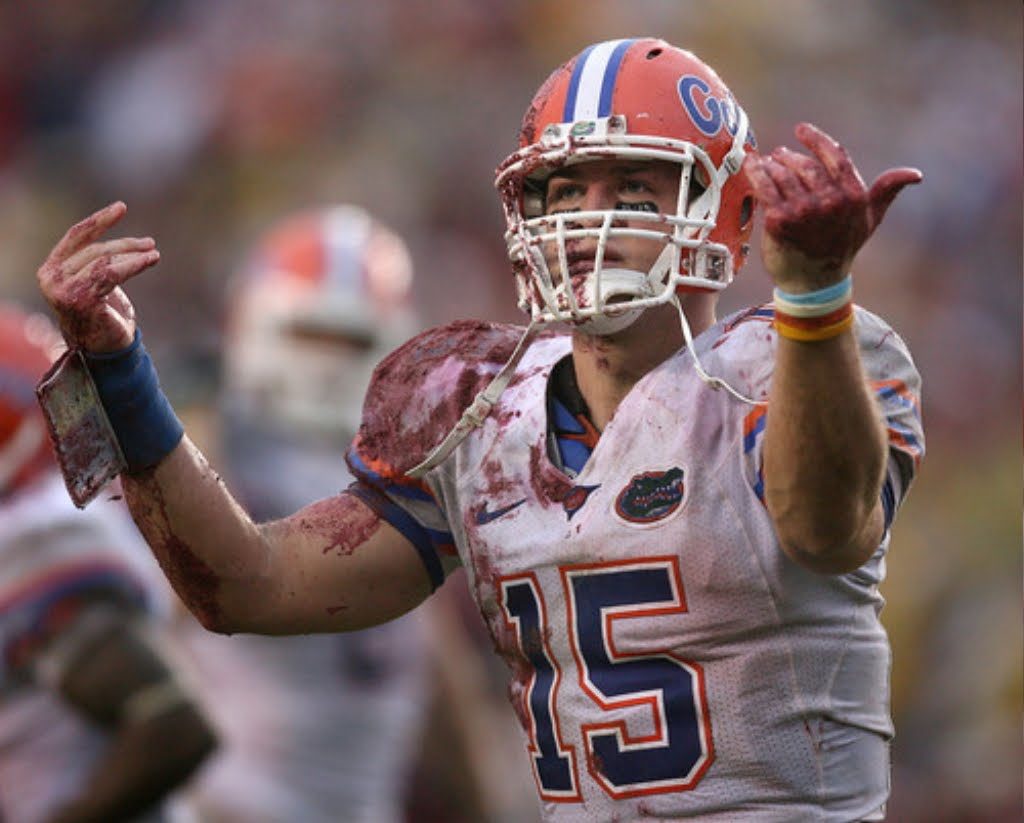 Early NFL Success Doesn't Promise Job Security
Tim Tebow would go on to be drafted in the first round by the Denver Broncos in 2010. Many were surprised GM John Elway would use his team's first round pick on a QB a lot of people didn't think had NFL caliber accuracy. But John Elway saw a winner in Tebow. Although he did not receive much playing time as a rookie, he would become a starter towards the end of the year. In his first game starting, he would break a 40 yard touchdown run, which remains a Bronco record for longest QB rushing play. In his second start, he would stage a comeback down 17-0 to win 24-23 against the Texans with over 300 yards passing and a pair of touchdowns (1 passing and 1 rush). This led to speculation that he could be the team's starter in 2011.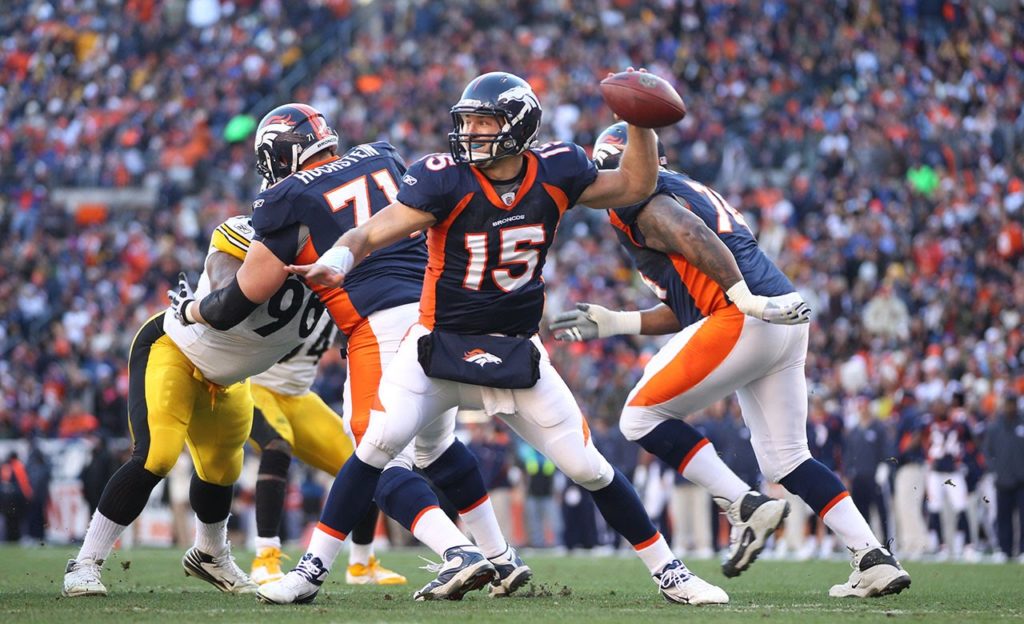 When 2011 preseason came around, the team announced Kyle Orton would be the starter. After a slow 1-4 start, the team announced Tebow would start after he replaced Orton in the 2nd half of a game against the Chargers and nearly overcame a 16 point deficit. The very next week Tebow would overcome a 15 point deficit against the Dolphins to win his first start. He would go on to win 7 of his next 8 games, including five come from behind wins. This would be enough to secure a playoff birth against a Pittsburgh Steelers team that seemed destined to go far that year. While many were rooting against him, he would throw for 316 yards and a pair of touchdowns including the game winning 80 yard strike in Overtime to win 29-23. Winning his first playoff start seemed highly improbable by many, but fans were starting to believe in their new leader. They would go on to advance to the next round where the New England Patriots ended their season, but many fans were excited to see the young Broncos team go so far in a year they thought would be a lottery year.
Somehow this would be the last time Tebow would receive any significant playing time with any team in the NFL. He would go onto sign with the Jets to ride bench, and then practice squads for the Patriots and Eagles, getting cut prior to the season's start. Some individuals attribute his open religious views as the reason he has not been given a fair shot at the NFL level.
Rebirth On the Baseball Diamond
After serving as a SEC broadcaster, Tim Tebow announced he would pursue a career in baseball. Tim held an open try out in August that attracted many MLB clubs. Eventually the New York Mets signed him to a minor league contract. After not having played full time baseball since his junior year of high school in 2005, many experts said Tebow would be a long shot. In his first game in the Mets instructional league, Tebow blasted a home run after the very first pitch. This got the Tebow hype going across the country again. Currently he's been upgraded to the Scottsdale Scorpions in the Arizona Fall League where he hopes to eventually play for the New York Mets in the Majors. Against the wisdom of all the naysayers, Tebow keeps on proving the doubters wrong. A true inspiration for others not to give up on their dreams just because everyone tells you it is not possible.