There are so many ways to customize a man cave to your preferences. It's still hard to know where to start sometimes, and you just need a little inspiration. Let's talk about the basic essentials for every man cave. Once you have these bases covered, the remaining details will fall into place
1. Plan Your Seating
How often will you be in your man cave? Do you plan to use it for lounging or mostly for activities? If you plan to spend a lot of time in there with your buddies watching games or movies, you'll want plenty of comfortable seating. Sofas and chairs are a must for watching TV. If you want to splurge, buy some theater seats. You can get by with basic folding chairs or cheap chairs if you won't be spending much time in your man cave or if you won't be lounging much.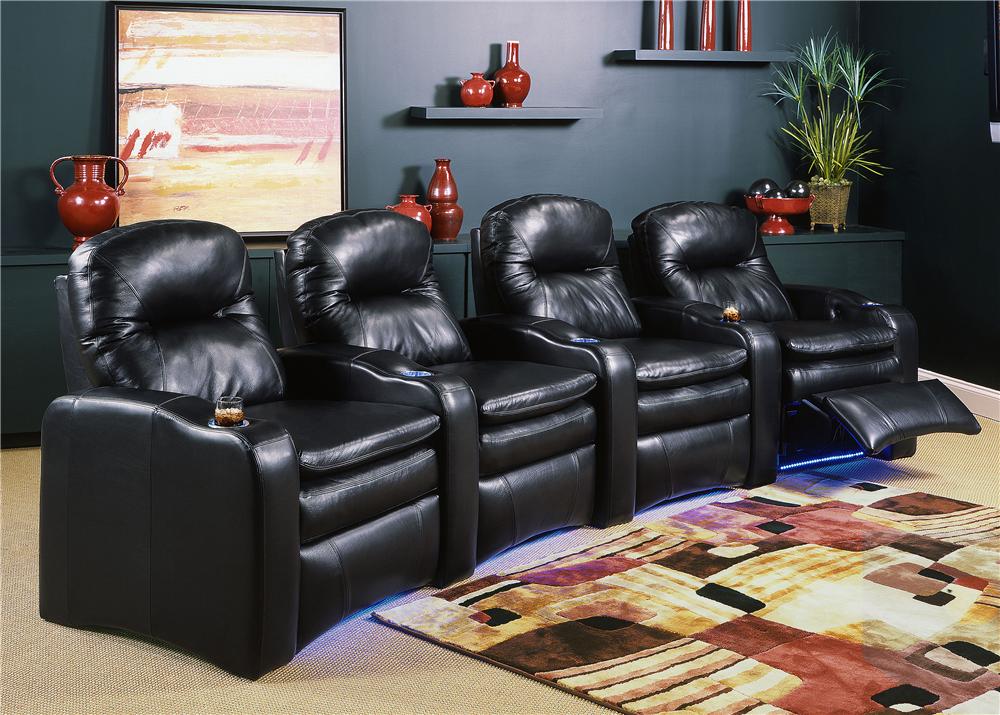 2. Find The Right Lights
If your man cave will include a workshop, you'll probably want some fluorescent lights or bright lamps. You can have both dim lights and bright lights if you bring in work lamps that can be turned off. One look that a lot of guys like and I personally think is awesome is recessed track lights. The photo below by Dad's Round Table is an excellent example of low lighting that is perfect for relaxing or watching TV.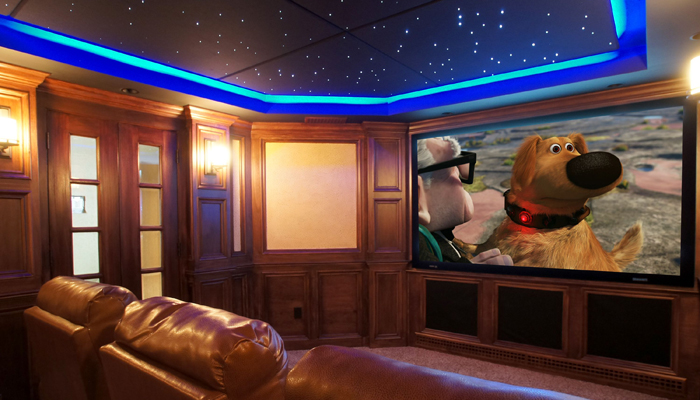 3. Think Drinks And Refreshments
You'll probably want at least a small fridge and a stash of snacks for yourself. If you plan on hosting game parties or having the guys over a lot, you can impress them with a small bar. The sky is the limit with this idea. You can stock it with your favorite liquors, put in a beer keg or even set up a pub-style video slot machine. Make it look like a sports bar or a wine bar depending on your preferences.
The photo below from the Official Man Cave Site is a nice example of a cross between sporty and classy. It's a simple design, which gives you the versatility to add some different types of removable decor depending on the occasion.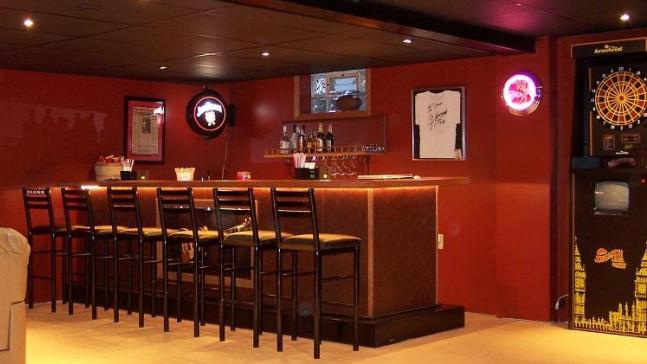 4. Focus On Activities
You can only watch TV for so long before you get bored. Since you can play on your phone outside of your man cave, try not to fall into the trap of just scrolling through sports updates or reading forums. If you could pick five games to put in your man cave, what would they be?
Think carefully, and the answers can be anything from a simple over-the-door basketball hoop to an arcade that you loved when you were a kid. If you can't afford something like an arcade game or a pinball machine right now, start tucking away some money out of every paycheck or selling some things you no longer need to save up. Foosball tables, pool tables and even multi-game tables are great investments. You can also add simpler games such as dart boards.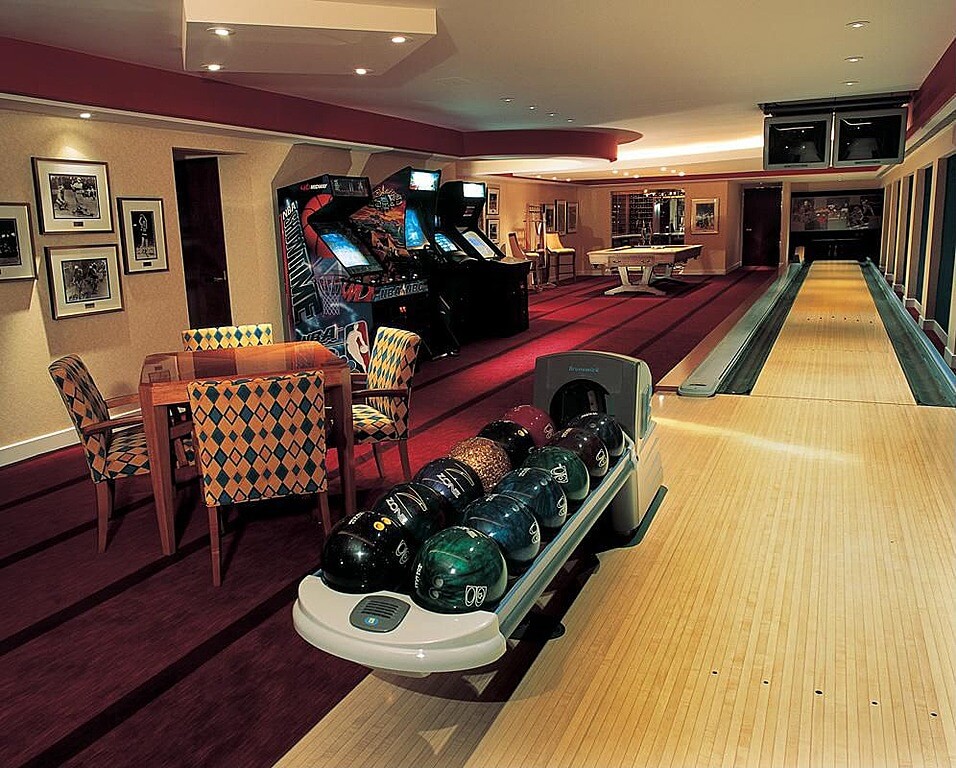 5. Choose Your Decorations
Since this is your space, there are no rules when it comes to decorating. You can pick one theme or show your appreciation for an eclectic style. Perhaps you like hunting, fishing and sports. There's nothing wrong with putting a deer head on the wall, pinning pennants from your high school around it, tacking up a car poster and adding a framed picture of your favorite sports hero.
If you want to focus on only one theme such as a specific sport, you can use your creativity or find ideas online to inspire you. I really like both of the man caves in the picture below from Ties. One guy added a seascape mural to the wall of his golf-themed setup for a lifelike feel. The football-themed man cave on the other side has carpeting that looks like a field, comfy logo chairs and NFL decor.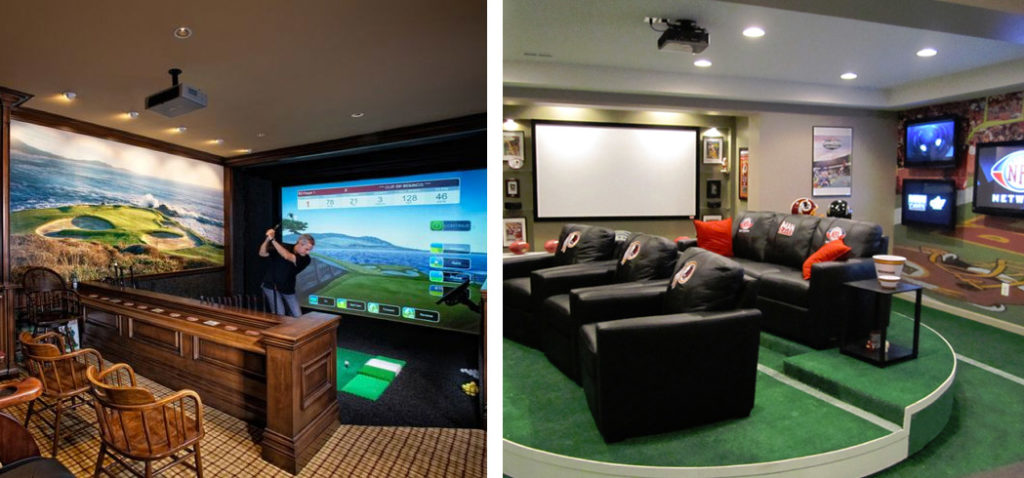 6. Don't Forget Your Hobbies
If sports are your only hobbies, we've probably already covered decorating and setting up activities for that. Do you have other hobbies like carving, reading or model cars? If you do and you have a family, you probably don't have room to set up a hobby workshop or even a place to display your handiwork.
Dedicate part of your man cave to your hobbies whether it means putting in a bookshelf for your favorite collectible magazines or making something elaborate. One impressive example of making something elaborate is in the picture below from Pinterest. A creative Dutch man made stands for an enormous span of race tracks.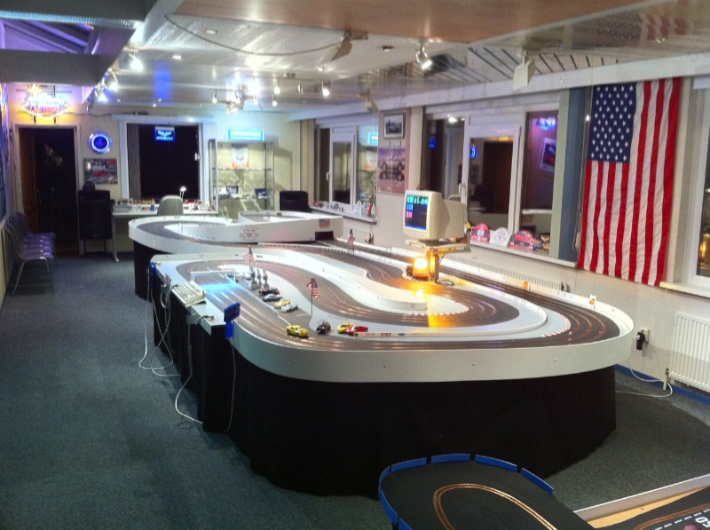 You can make a great man cave whether you're willing to do some home improvement or not. I hope you enjoyed this guide!
About The Author
Aside from spending time with his children, Todd Lubar is most passionate about real estate and finance. After graduating from Syracuse University in 1995, Todd decided that he wanted to spend his career in positions where he could enjoy his enthusiasm for both fields.
While most of his career has been spent in mortgage banking, Todd has also owned several successful businesses such as a night club, a demolition company and a recycling center. His dedication to helping people continues today in his roles as President of TDL Global Ventures, LLC and Senior Vice President of Legendary Investments.