Joe Bonamassa is a pretty big deal. In fact, many people think Bonamassa is a god…a "guitar god," that is.
In case you haven't heard, Bonamassa is an American guitarist, singer, and songwriter that has played with the likes of Eric Clapton and B.B. King. Bonamassa started shredding mind-numbingly awesome guitar solos pretty much right after he came out of the womb. Deemed a child prodigy at the time, Bonamassa has grown up to become one of the most revered blues guitarists in the music industry.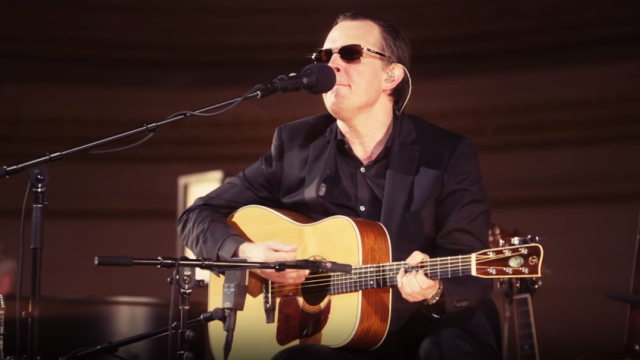 Anyone who's never heard a Bonamassa concert before should seriously consider picking up his latest live recording from Carnegie Hall. In this incredible acoustic performance, Joe Bonamassa plays some of his old standards as well as hot renditions of his latest original songs. This recording, called "Joe Bonamassa Live At Carnegie Hall – An Acoustic Evening," has been available on DVD, Blu-Ray, and CD since June 23rd.
Eight equally talented musicians back up Joe Bonamassa in this concert. Some rock enthusiasts may recognize Hossam Ramzy on percussions. That's right, Ramzy played on Led Zeppelin's unforgettable No Quarter: Unledded Tour.
The highlight of the concert is when Joe Bonamassa plays the insanely difficult "Woke Up Dreaming" with classically trained cellist Tina Guo. Amazingly, Bonamassa upped the tempo in this song so Guo could overlay Rimsky-Korsokov's "Flight of the Bumble Bee" at the start. This incredibly fast speed makes for an exhilarating performance you simply can't miss viewing at least once in this lifetime. Even if you don't get the DVD, you should really check out the video online. You're ears will be oh so glad you did!
Some of the other musicians playing with Bonamassa include Anton Fig on drums, Reese Wynans on piano, and Eric Bazilian on a wide range of instruments. Bonamassa also has three powerful Australian backup vocalists in this show named Gary Pinto, Mahalia Barnes, and Juanita Tippins.
Although Bonamassa typically plays electric guitar, this Carnegie special isn't the first time Joe Bonamassa has played a live acoustic set. He actually performed a highly reviewed acoustic show in the Vienna Opera House in 2013. This concert is also available on DVD and CD if you want to check it out.
If after viewing these DVDs you feel like taking in a live Bonamassa performance, you're in luck. Bonamassa is currently on a tour across the USA. Be sure to check out his official website to find all the places he'll be playing at this year.